Nothing can bring a car's satisfaction rating down faster than an infotainment system, and the worst of a bad crop might just be Infiniti's InTouch. Thank goodness there's a Q50 wrapped around it, because that disaster needs a saving grace.
InTouch is a two-screen infotainment system that is supposed to provide convenience, concierge, safety, and security. At least that's what Infiniti's marketing brochure said.
Slow to Start, Slower to Use
Owners say it is a glitch-laden system that freezes and requires multiple reboots a week. It's also sometimes so slow to start, that it renders the backup camera useless:
"After I purchased the car, the salesman demonstrated every feature, but said that it takes some time for the system to "boot up". Seriously, how long should it take for a safety feature like the rear camera guidance to become active? Starting a car and idling it for 2 minutes is not an acceptable operating mode. At least you get a picture almost immediately. The same feature on my wife's Honda takes about 20 seconds to engage. quote"
More Isn't Always Better
Infiniti took the more is better approach to infotainment. Along with Acura, a second screen was introduced to the center console.
"Building on Infiniti's unique approach to making owners' lives easier … the new Infiniti InTouch™ telematics system brings the future of in-car connectivity to the Q50 interior. Unlike conventional interfaces, the Q50 has not one but two touch capacitive screens with intuitive hand gesture screen operation to easily connect drivers to their lives outside the car."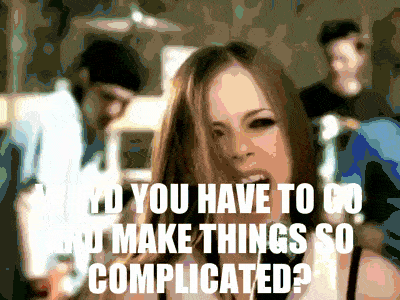 More can certainly be better – more horsepower, more fuel economy, more snacks. But simple should be infotainment's gold standard. Remember, we are supposed to be driving, after-all.
Infiniti primarily uses the second screen to provide a map, which in some ways is kind of great. It also feels needlessly complex. The two screens look great in a marketing photo, but lose their luster in person. From DigitalTrends.com:
"Two screens may sound like a great boardroom proposal. Reality is, however, that the screens aren't duplicates. This means different resolutions and different graphics combine to look less like the Enterprise and more like a low-budget project from Pimp My Ride."
Infotainment systems are introducing features like integrated navigation, hand-free calling, maintenance alerts, car finder, roadside service, diagnostic data, and – in one of humanities greatest achievements – the ability to update your Facebook status. Suck on that, Buzz Aldrin.
There are additional upfront costs to infotainment, I mean – those capacitive touch-screen displays aren't going to pay for themselves. However, they provide new revenue sources for the car makers as well.
"While these features are often enjoyable and useful, the fees that arrive after the free trial is over can be an unexpected hit to your monthly car budget. In fact, the point of these trial periods is to get new car owners hooked on these features, then sell them on hundreds of dollars per year worth of service. – Julie Halpert, Consumer Reports"
That's not to mention the one-time costs for map upgrades, either. The real sneaky bit is how some of these contracts can just be rolled into your car payment, how convenient!
Customer Satisfaction
Consumer Reports has said that infotainment systems are the most troublesome feature and a "growing first-year reliability plague."
When polling owners, Consumer Reports found that only 54% of Infiniti owners were very satisfied with their infotainment option, an average score. But wait, that's only if you count Connection – Infiniti's latest and greatest. Take Connection away and InTouch ranked dead last.
"A worrisome note: The InTouch system, when separated from the overall Infiniti brand, finished dead last in our rankings—with only 38 percent very satisfied—because of its frequent software crashes and slow startup."
The InTouch App Lawsuit
In order to use some InTouch services, owners were required to download an app to their phones. There's only one problem – the app wasn't ready until long after InTouch was released.
A 2014 Q50 owner, Leon Zingerman, sued Infiniti for false advertising and releasing a useless service.
Mr. Zingerman said he wasn't able to use InTouch for a year while he, like so many others, waited for the app to be released. All the while, Infiniti continued to advertise the InTouch service as an upgrade.
"The lawsuit alleges Zingerman paid more than he should have for the Q50 believing the car had a working infotainment system. Additionally, Infiniti allegedly falsely advertised the advantages of buying a car with the InTouch system while knowing the app didn't work."
The lawsuit Leon Zingerman, Niles Family Dental v. Nissan North America Inc. was filed in the US district court for the Northern District of Illinois.
Class-Action Hopes Dashed, Lawsuit Settled
The judge ruled class-action certification wouldn't happen unless owners could prove they bought or leased their vehicles because of the InTouch advertisements. Of course, they couldn't.
Nissan eventually decided to settle the case, not because they did anything wrong but because they wanted to avoid a drawn-out trial.
2014 Q50 owners are eligible to receive $30 and another $55 if they downloaded the inTouch app before 04/17/2017. Or, skip the cash payments, and receive a $500 credit toward the purchase or lease of a new Infiniti. The offer is good until Match 2019.
On a side note, attorneys received $800,000 in fees and costs for this case. So who's the real winner here?
""Infiniti knows the system does not operate correctly, it never did. Apps don't work from phone, at all!! Infiniti says they're working on problem but have no idea how to fix. Salesmen said it will be soon, that was on April 1st (I guess the jokes on me). I paid over $40,000 for the car and what was promised and shown in manual does not and never did operate fully. FOR A SUPPOSEDLY LUXURY CAR LINE THEY ARE LOSING CAR BUYERS." - 2014 Infiniti Q50 owner / Tonawanda, New York"